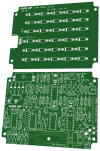 Spark Energy Meter PCBs [05101151/2]

PCBs for the Spark Energy Meter.

Includes the main board (05101151) and the Zener diode board (05101152). The calibrator board is available as a separate item.

These boards were listed with codes 04101151 and 04101152 in some places.

Double-sided PCBs with plated through holes, solder mask and silkscreen overlay.

110.5 x 85mm each.