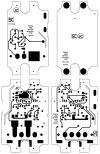 Touch and IR Remote Control Trailing Edge Dimmer PCB patterns (PDF download) [10111191-3]

PDF with the PCB designs for the Versatile Trailing Edge Dimmer with Touch and/or Infrared Remote Control (double-sided).

The main board (10111191) is double-sided while the mounting (10111192) and extension boards (10111193) are single-sided.

Both layers of the main board, plus the other two boards, are in a single PDF.

Note that due to the requirement for slots and the critical nature of the board shape and other factors, we don't suggest you make these boards yourself for safety reasons. This file is provided for reference purposes only.