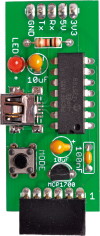 Microbridge complete kit

A kit of all the parts required to build the Microbridge. This includes:


PCB (green)
Programmed microcontroller and IC socket
3.3V low-dropout regulator
All capacitors (ceramic types supplied)
USB socket
Pin headers (male and female)
1kΩ resistor

The PCB, programmed microcontroller and regulator are also available separately.

PLEASE NOTE: the 10µF capacitors supplied are non-polarised SMD ceramic types. They have no markings and can be installed either way around.